Claim: Football juggler seen in viral video is former President Muhammadu Buhari
Source: Viral video
Verdict: FALSE
Researched by Gifty Tracy Aminu
A video showing a man juggling a football is being widely portrayed online as the former President of Nigeria, Muhammadu Buhari.
The video shared on Facebook reels by a user shows a man in Agbada – a wide-sleeved robe worn by males in different parts of West Africa, juggling a football, and at the time of writing this report the video has garnered more than 7,000 interactions, including more than 1,000 shares.
A screengrab of the viral video posted on Facebook reels
On the micro-blogging platform, Twitter, some users have also posted the same video (here and here) amidst claims that the football juggler is former President, Muhammadu Buhari.
A screenshot of the viral video posted on Twitter
This fact-check report seeks to verify the accuracy of the claim.
Fact-Check
To verify the claim, FactSpace has found a longer version of the video shared by another Facebook user on April 30, 2023, with the caption, "Please, which version of Buhari is this one that is playing football?"
FactSpace upon a careful assessment of the longer version of the viral video, has found that the football juggler is not 80-year-old Muhammadu Buhari.
Despite some resemblances, there are obvious facial differences – and a very important observation is Buhari's diastema and the football juggler's lack thereof.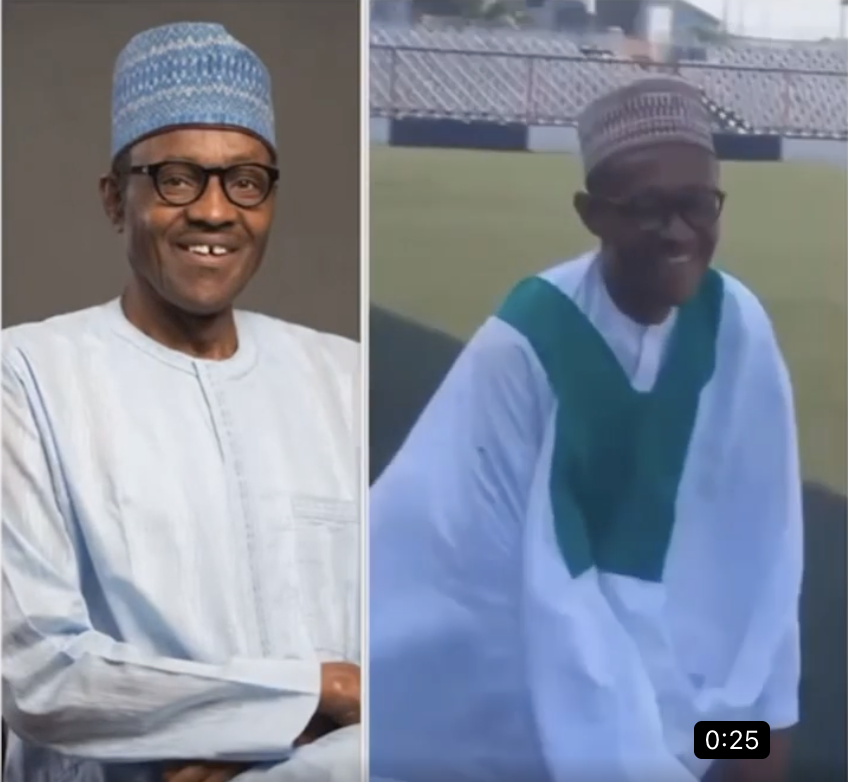 Checking on the verified Facebook and Twitter pages of President Muhammadu Buhari, FactSpace has not found any video or report that officially confirms the claims being widely circulated on social media.
Verdict
The claim that the viral video showing a football juggler is former President Muhammadu Buhari is FALSE.